The Love Songs of W.E.B. Du Bois: An Oprah's Book Club Pick (Paperback)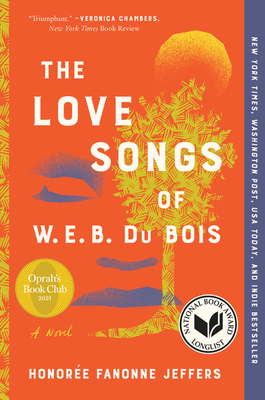 $20.00

Available from our distributor; usually Ships in 1-5 Days
September 2021 Indie Next List
---
"This is the best book I've read this year. An ambitious debut novel tracing the history of one family against the backdrop of American history and showing the stories that are remembered and the ones that are forgotten."
— Benedict Tanter, Main Point Books, Wayne, PA
Description
---
An instant New York Times, Washington Post and USA Today Bestseller • AN OPRAH BOOK CLUB SELECTION • ONE OF BARACK OBAMA'S FAVORITE BOOKS OF 2021 • WINNER OF THE NATIONAL BOOK CRITICS CIRCLE AWARD FOR FICTION
A BEST BOOK OF THE YEAR: New York Times • Time • Washington Post • Oprah Daily • People • Boston Globe • BookPage • Booklist • Kirkus • Atlanta Journal-Constitution • Chicago Public Library
Finalist for the PEN/Hemingway Award for Debut Novel • Longlisted for the National Book Award for Fiction • Finalist for the Kirkus Prize for Fiction • Nominee for the NAACP Image Award
"Epic. . . . I was just enraptured by the lineage and the story of this modern African-American family. . . . I've never read anything quite like it. It just consumed me." —Oprah Winfrey
The NAACP Image Award-winning poet makes her fiction debut with this magisterial epic—an intimate yet sweeping novel with all the luminescence and force of Homegoing; Sing, Unburied, Sing; and The Water Dancer—that chronicles the journey of one American family, from the centuries of the colonial slave trade through the Civil War to our own tumultuous era. 
The great scholar, W. E. B. Du Bois, once wrote about the Problem of race in America, and what he called "Double Consciousness," a sensitivity that every African American possesses in order to survive. Since childhood, Ailey Pearl Garfield has understood Du Bois's words all too well. Bearing the names of two formidable Black Americans—the revered choreographer Alvin Ailey and her great grandmother Pearl, the descendant of enslaved Georgians and tenant farmers—Ailey carries Du Bois's Problem on her shoulders.
Ailey is reared in the north in the City but spends summers in the small Georgia town of Chicasetta, where her mother's family has lived since their ancestors arrived from Africa in bondage. From an early age, Ailey fights a battle for belonging that's made all the more difficult by a hovering trauma, as well as the whispers of women—her mother, Belle, her sister, Lydia, and a maternal line reaching back two centuries—that urge Ailey to succeed in their stead.
To come to terms with her own identity, Ailey embarks on a journey through her family's past, uncovering the shocking tales of generations of ancestors—Indigenous, Black, and white—in the deep South. In doing so Ailey must learn to embrace her full heritage, a legacy of oppression and resistance, bondage and independence, cruelty and resilience that is the story—and the song—of America itself.
About the Author
---
Honorée Fanonne Jeffers is a fiction writer, poet, and essayist. She is the author of five poetry collections, including the 2020 collection The Age of Phillis, which won the NAACP Image Award for Outstanding Literary Work in Poetry and the Lenore Marshall Poetry Prize, was longlisted for the National Book Award for Poetry, and was a finalist for the PEN/Voelcker Award, the George Washington Prize, and the Los Angeles Times Book Prize. She was a contributor to The Fire This Time: A New Generation Speaks About Race, edited by Jesmyn Ward, and has been published in the Kenyon Review, Iowa Review, and other literary publications. Jeffers was elected into the American Antiquarian Society, whose members include fourteen U.S. presidents, and is Critic at Large for Kenyon Review. She teaches creative writing and literature at University of Oklahoma. The Love Songs of W. E. B. Du Bois is her first novel and was a New York Times bestseller, winner of the National Book Critics Circle Award for Fiction, longlisted for the National Book Award, shortlisted for the Center for Fiction First Novel Prize, a Finalist for the Kirkus Prize for Fiction, longlisted for the Aspen Words Literary Prize, and an Oprah Book Club Pick.
Praise For…
---
"Whatever must be said to get you to heft this daunting debut novel by Honorée Fanonne Jeffers, I'll say, because The Love Songs of W.E.B. Du Bois is the kind of book that comes around only once a decade. Yes, at roughly 800 pages, it is, indeed, a mountain to climb, but the journey is engrossing, and the view from the summit will transform your understanding of America. . . . With the depth of its intelligence and the breadth of its vision, The Love Songs of W.E.B. Du Bois is simply magnificent." — Ron Charles, Washington Post
"Triumphant. . . . Quite simply the best book that I have read in a very, very long time. . . . An epic tale of adventure that brings to mind characters you never forget: Meg Murry in A Wrinkle in Time, Scout in To Kill a Mockingbird, Huckleberry Finn. . . . The historical archives of Black Americans are too often filled with broad outlines of what happened. . . . One of the many triumphs of Love Songs is how Jeffers transforms this large history into a story that feels specific and cinematic in the telling. . . . Just as Toni Morrison did in Beloved, Jeffers uses fiction to fill in the gaping blanks of those who have been rendered nameless and therefore storyless. . . . A sweeping, masterly debut." — Veronica Chambers, New York Times Book Review
"The Love Songs of W.E.B. Du Bois is epic in its scope. [It] traces the story of a family, the town in Georgia where they come from, and their migration outward over generations. The word epic is overused these days, but this book was meant to be an epic and it is. . . . This is one of the most American books I have ever read. It's a book about the United States. It's a book about the legacy of slavery in this country. . . . And it's also a book about traumas and loves that sustain over generations." — Noel King, NPR
"[An] ambitious début novel, by a noted poet. . . . Jeffers amasses details, richly rendering suffering and resistance."  — New Yorker
"A feat of beauty and breadth." — Time, 100 Must-Read Books of the Year
"This sweeping, brilliant and beautiful narrative is at once a love song to Black girlhood, family, history, joy, pain . . . and so much more. In Jeffers's deft hands, the story of race and love in America becomes the great American novel." — Jacqueline Woodson, author of Red at the Bone and Another Brooklyn
"Stunning." — People, Top 10 Books of the Year
"A sweeping matriarchal epic that leads readers through a majestic tour of race, family, and love in America, this striking debut novel by an award-winning poet is, indeed, the Great American Novel at its finest." — Joshunda Sanders, Boston Globe's Best Books of the Year
"With The Love Songs of W.E.B. Du Bois, Jeffers has created an opus, an indelible entry to the canon of contemporary American literature and one of the foundational fictional texts of Black literature worthy of sitting alongside Ralph Ellison's Invisible Man, Toni Morrison's The Bluest Eye and Jesmyn Ward's Sing, Unburied, Sing." — Latria Graham, Atlanta Journal-Constitution 
"Stupendously good. . . . Jeffers' renditions of Black family traditions and the burden of respectability politics are spot-on, and made me wish the book was even longer." — Karen Grigsby Bates, NPR Best Books of the Year
"As one of the most prolific poets of our time, Jeffers has penned a family saga that is just as brilliant as it is necessary, just as intimate as it is expansive. An outstanding portrait of an American family and in turn, an outstanding portrait of America." — Angie Thomas, author of The Hate U Give
"This ambitious debut novel by a National Book Award-nominated poet chronicles the journey of an American family from the colonial slave trade through the Civil War to our present day, and one Black woman's coming-to-terms with her legacy." — Barbara VanDenburgh, USA Today
"[A] generational magnum opus." — O, the Oprah Magazine
"Utterly remarkable." — Karla Strand, Ms.
"A vibrant and tender coming-of-age novel. Ailey Pearl Garfield is a young girl reckoning with what it means to be a Black woman in America. . . . [Ailey's] journey features complex and intimate narratives of love and heartbreak from her family's two centuries in the American South, giving her not only insight into her family's complicated past, but also the tools to imagine her own future." — Time
"The Love Songs of W.E.B. Du Bois, from acclaimed poet and first-time novelist Honorée Fanonne Jeffers, has hit every note—and the finished product feels like a Southern gospel song that makes the chest swell with emotion." — Nylah Burton, Shondaland
"If you read one book this year, choose this one. I went to bed thinking of Ailey Pearl Garfield and woke up thinking of her. With the arrival of this epic novel of family, race, and ancestral legacy, one of America's finest poets has announced herself as a storyteller of the highest magnitude. Absolutely brilliant." — Dolen Perkins-Valdez, author of Wench and Balm
"[A] soaring debut [and] a moving portrait of an American family and its history. It's beautifully told—it's sexy, confrontational, tragic—and does exactly what good historical fiction should: holds you fast, brings you closer to history and humanity, and sticks with you for days." — Genevieve Walker, San Francisco Chronicle
"Prepare to be wholly engrossed. . . . This profound reading experience brought me a deep awareness of intergenerational trauma and triumph. [A] phenomenal saga. . . . Jeffers's Ailey Pearl Garfield is one of the most fully realized central protagonists and interlocutors that I've encountered in fiction. Jeffers celebrates Black women not as saints or saviors, but brilliant survivors who embody joy and genius along with their history." — Lauren LeBlanc, Observer
"The Love Songs of W.E.B. Du Bois is an investment, but a worthy one. It's the kind of epic that deserves its own place in the sun." — Chris Vognar, Star Tribune
"It's not often I get to the last few chapters of an 816-page book and wish it wouldn't end so soon. But that's what happened when I read The Love Songs of W.E.B. Du Bois, the stunner of a debut novel by Honorée Fanonne Jeffers. It's historical fiction in which a solid base of research is brought brilliantly to life by a cast of memorable characters and irresistible storytelling." — Colette Bancroft, Tampa Bay Times
"From our earliest roots, African and Indigenous, to our present-day realities weighed down by inequity and injustice, Jeffers writes about all of us with such tenderness and deep knowing. Hers is the gorgeous prose one expects from a gifted, accomplished poet, masterful and stunning, as she explores both the bountiful resilience of Black folks and the insidious depravity wrought by white supremacy. These Love Songs make for a frank, feminist, and unforgettable read." — Deesha Philyaw, author of The Secret Lives of Church Ladies
"A story filled with suffering, resilience—and a surprising twist." — Perdita Buchan, New York Journal of Books
"A sprawling, ambitious debut novel that is as impassioned in promoting Black women's autonomy as it is insistent on acknowledging our common humanity. . . . Jeffers, a celebrated poet, manages the difficult task of blending the sweeping with the intimate. . . . If this isn't the Great American Novel, it's a mighty attempt at achieving one." — Kirkus Reviews (starred review)
"Poet Jeffers reinvigorates the multigenerational saga in her first novel, an audacious, mellifluous love song to an African American family. . . . Jeffers' lyrical cadences shimmer. . . . Incandescent and not to be missed." — Lesley Williams, Booklist (starred review)
"In her debut novel, celebrated poet Honorée Fanonne Jeffers weaves an epic ancestral story. . . . From slavery to freedom, discrimination to justice, tradition to unorthodoxy, this story covers large parts of not just of Ailey's heritage but also America's. . . . The result is a dazzling tale of love and loss. . . . Comparisons to Toni Morrison are bound to be made and. . . . The Love Songs of W.E.B. Du Bois earns its place among such company, as Jeffers engages with and builds upon the legacy of African American literature as carefully and masterfully as she does the narrative of Ailey's family." — Eric Ponce, BookPage
"In this dazzling debut, generations of high yellow and brown 'skin-ded' women in one Georgia family explore the complexities of kin, the legacies of trauma, with all the sharp corners and blind alleys of real life. Wise, funny, deeply moving, I can't tell you how much I love this book. A few times a generation a book comes along that gathers you up with its force, its insights, its sound and fury, its lyrical beauty. The Love Songs of W.E.B. Du Bois is one of those books. Not merely a good novel, but a great and important one." — Stephanie Powell Watts, author of No One Is Coming to Save Us
"A staggering and ambitious saga. . . .Themes of family, class, higher education, feminism, and colorism yield many rich layers. Readers will be floored." — Publishers Weekly, starred review
"Textually connected to the works of Harriet Jacobs, Zora Neale Hurston, Alice Walker, and Toni Morrison, to name a few, [The Love Songs of W.E.B. Du Bois is] a judicious study of American history that humanizes its participants through exploration of their stories. . . . Reminiscent of both Alex Haley's Roots and Yaa Gyasi's Homegoing, the novel captures the spiritual resilience of African American women. . . . An amazing first novel." — Adele Newson-Horst, World Literature Today
"At once ambitious and intimate . . . [it] calls to mind the brilliant work of Yaa Gyasi in 'Homegoing'. . . the inherent poetry of its language makes the novel absolutely exhilarating. The achievement of Honorée Fanonne Jeffers is certainly in the risks she is willing to take." — Steven Whitton, Anniston Star 
"Three talented narrators transport listeners with this absorbing novel. This lyrical debut, which is at once expansive and intimate, explores timely issues of intergenerational trauma, colorism, class divides, and higher education. . . . Narrator Adenrele Ojo could teach a master class in narration with her flawless portrayals of the intelligent, sensitive Ailey; her wise, courageous Uncle Root; and the other unforgettable contemporary family members." — AudioFile
"For me, this doesn't take much thought. It is THE novel of the year. This astonishing work is the first fiction by a writer whose poetry collections are profound and beautiful. In this book, a young woman follows her family history into the recesses of slavery in America. The young woman is a historian, so we are following her into her stunning access to the documentation of her family's capture and beyond, to the present." — Michael Silverblatt, KCRW's Top 10 Books of the Year