Cold Storage: A Novel (Hardcover)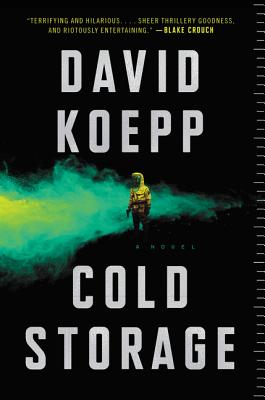 $27.99
Out of Stock - Not Available
Staff Reviews
---
A fun science thriller with a great touch of humor in the writing. David Koepp hits a perfect balance of tension and character development in this story of an out of control fungus that could wipe out all life on the planet if it gets loose.
— From
Will
September 2019 Indie Next List
---
"Meet Cordyceps Novus, a highly adaptable fungus that just wants one thing: to take over the world. After being contained underground for 40 years, conditions are finally perfect for a comeback. Several floors above, two young night-shift security guards decide to track down the source of the mysterious alarm below. David Koepp's debut novel is both terrifying and humorous — a thrilling combination. After getting an inside look at the growth and spread of this fungus, I will never look at a mushroom the same way again."
— Mary Salazar, The Country Bookshop, Southern Pines, NC
Description
---
"On every level, Cold Storage is pure, unadulterated entertainment." —Douglas Preston, The New York Times Book Review
For fans of The Martian, Dark Matter, and Before the Fall comes an astonishing debut thriller by the screenwriter of Jurassic Park: a wild and terrifying bioterrorism adventure about three strangers who must work together to contain a highly contagious, deadly organism that could destroy all of humanity.
They thought it was contained. They were wrong.
When Pentagon bioterror operative Roberto Diaz was sent to investigate a suspected biochemical attack, he found something far worse: a highly mutative organism capable of extinction-level destruction. He contained it and buried it in cold storage deep beneath a little-used military repository.
Now, after decades of festering in a forgotten sub-basement, the specimen has found its way out and is on a lethal feeding frenzy.  Only Diaz knows how to stop it.
He races across the country to help two unwitting security guards—one an ex-con, the other a single mother.  Over one harrowing night, the unlikely trio must figure out how to quarantine this horror again.  All they have is luck, fearlessness, and a mordant sense of humor.  Will that be enough to save all of humanity?
About the Author
---
David Koepp is a celebrated American screenwriter who's written more than two dozen feature films in a wide variety of genres, including the first two Jurassic Park films, Death Becomes Her, Carlito's Way, The Paper, Mission: Impossible, Spider-Man, Panic Room, War of the Worlds, Angels and Demons, Inferno, and Kimi. Some of the films he's both written and directed are Stir of Echoes, Secret Window, Ghost Town, and Premium Rush, the latter two co-written with John Kamps. Koepp is also the author of the novel Cold Storage. 
Praise For…
---
"[Koepp] writes well, he has a wicked sense of humor and his characters are so keenly, intelligently and even movingly drawn. . . . On every level, Cold Storage is pure, unadulterated entertainment." — A.J. Jacobs, New York Times bestselling author of The Know-It-All
"Engaging. . . . Koepp recognizes that this is all pretty zany and imbues the novel with a mordant sense of humor, which gives Cold Storage a welcome vibrancy and lightness." — USA Today
"The story line in Cold Storage invokes classic horror films. . . . It's scary, and a great deal of fun." — Associated Press
"Koepp delivers a story worthy of Michael Crichton." — Entertainment Weekly
"It has all the hallmarks of a thriller destined for Hollywood." — Polygon
"A thriller of breakneck speed, Cold Storage will be an engaging read that fans of Blake Crouch's Dark Matter could devour in one sitting." — Ars Technica
"Chilling. . . . Propulsive. . . . Koepp is skilled at sharp, often humorous dialogue. . . . [A] taut, mordant thriller debut." — Kirkus Reviews (starred review)
"A terrific thriller: ambitious, audacious, gory, scary, flamboyant, and funny. . . . [Koepp makes] a seamless, massively effective transition from the visual medium to the literary. The book doesn't read like a modestly beefed-up pitch for a movie; it's a rich, textured, and downright impossible-to-put-down story." — Booklist (starred review)
"A sensational SF thriller. . . . Breakneck pacing and nonstop action. . . . Michael Crichton fans won't want to miss this one." — Publishers Weekly
"Cold Storage is The Andromeda Strain on crack: chilling end-of-the-world terror infected with wicked humor. Koepp pulls it off with style. When the real apocalypse arrives, may it be even half as funny as this." — Barron's
"An ultra-flammable combination of science-based horror, primal nightmare-level terror, and unrelenting action, cunningly tied together by indelible characters and a satisfyingly sly, knowing sense of humor." — Steven Heller, Imprint
To be simultaneously terrifying and hilarious is a masterstroke few writers can pull off, but Koepp manages in this incredible fiction debut that calls to mind a beautiful hybrid of Michael Crichton and Carl Hiaasen. Cold Storage is sheer thrillery goodness, and riotously entertaining. — Blake Crouch, New York Times bestselling author of Dark Matter
"A thrilling, funny, and unexpectedly moving joy ride." — Scott Smith, New York Times bestselling author of A Simple Plan and The Ruins
You might as well put your plans on ice for the next twenty-four hours, as all you'll be doing is reading this book.  The very definition of 'thriller,' David Koepp's Cold Storage grabs you and shakes you and ultimately leaves you grinning. —  Neal Pollack, author of Alternadad