Brazen and the Beast: A Dark and Spicy Historical Romance (The Bareknuckle Bastards #2) (Hardcover)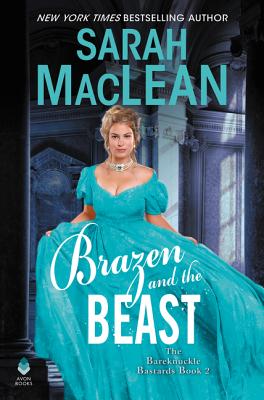 $26.99
Out of Stock - Not Available
Other Books in Series
This is book number 2 in the The Bareknuckle Bastards series.
Description
---
New York Times Bestselling Author Sarah MacLean returns with the next book in the Bareknuckle Bastards series about three brothers bound by a secret that they cannot escape—and the women who bring them to their knees.
The Lady's Plan
When Lady Henrietta Sedley declares her twenty-ninth year her own, she has plans to inherit her father's business, to make her own fortune, and to live her own life. But first, she intends to experience a taste of the pleasure she'll forgo as a confirmed spinster. Everything is going perfectly…until she discovers the most beautiful man she's ever seen tied up in her carriage and threatening to ruin the Year of Hattie before it's even begun.
The Bastard's Proposal
When he wakes in a carriage at Hattie's feet, Whit, a king of Covent Garden known to all the world as Beast, can't help but wonder about the strange woman who frees him—especially when he discovers she's headed for a night of pleasure . . . on his turf. He is more than happy to offer Hattie all she desires…for a price.
An Unexpected Passion
Soon, Hattie and Whit find themselves rivals in business and pleasure. She won't give up her plans; he won't give up his power . . . and neither of them sees that if they're not careful, they'll have no choice but to give up everything . . . including their hearts.
About the Author
---
A life-long romance reader, Sarah MacLean wrote her first romance novel on a dare, and never looked back. She is the New York Times and USA Today bestselling author of romances translated into more than twenty languages, a romance columnist, and the co-host of the weekly romance novel podcast, Fated Mates. A graduate of Smith College and Harvard University, she lives in New York City.
Praise For…
---
"Last year, we declared her the intoxicating queen of historical romance, and her latest...keeps that crown firmly atop her brilliantly erotic, feminist head. MacLean consistently elevates romance to high art, besting herself nearly every time she puts pen to paper, and Brazen and the Beast is no exception." — Entertainment Weekly
"Strong female protagonists are the rule in genre romance, but Hattie stands out for the clarity of her goals and the intelligence with which she goes about achieving them. Classic MacLean: smoking hot, emotionally rich, thrilling, and unforgettable." — Kirkus Reviews (starred review)
"The imaginative plot carries readers along in this deliciously sexy story filled with heart." — Publishers Weekly
"When it comes to crafting unforgettable romances that are both emotionally and thematically complex, nobody does it quite like RITA award-winning MacLean, and the latest brilliantly written and boldly sensual addition to her Bareknuckle Bastards series is another exquisitely constructed and exceptionally entertaining celebration of the power of love..." — Booklist (starred review)
"MacLean is not called the intoxicating queen of historical romance for nothing! She's a master of intelligent dialogue, which adds to the tension, as several moments for a possible tryst pass the couple by...A fun, sexy read!" — Historical Novel Society
"Combining dark humor and plenty of heat between our brazen leads, and offering intriguing glimpses of the next installment, MacLean (Wicked and the Wallflower) once again gives us an independent-minded heroine discovering the possibilities of a future with a dangerous leader of Covent Garden's underbelly." — Library Journal
"Funny, playful and vivid, Sarah MacLean's latest romance samples the best of both worlds with the earthy vigor of the slum's crafty, loyal lower classes and the juicy intrigue of high society scandal." — BookPage
"Brazen and the Beast is filled with lush sensuality, charming characters, witty dialogue and heart-stopping action--a tale that is certain to delight romance readers."  — Shelf Awareness
"This book is funny, sexy, and empathetic towards its characters." — Smart Bitches, Trashy Books
"She's my absolute go-to author for clever, sexy and fun historical romances." — Jennifer L. Armentrout, #1 New York Times bestselling author
"Here [MacLean] kicks off a new series, The Bareknuckle Bastards, that promises her darkest take yet. But even when MacLean goes dark… the sparkling wit and essential goodness of her characters shine through." — New York Times Book Review
"MacLean's books should be required reading...She is, without question, the elegantly fuming, utterly intoxicating queen of historical romance." — Entertainment Weekly
"The devil is in the delightful details for MacLean's first Bareknuckle Bastards Regency romance. MacLean (The Day of the Duchess) intersperses hints of mystery and intrigue with plentiful humor, crafting a touching story filled with charming characters readers will be eager to meet again." — Publishers Weekly
"The romance is intensely passionate, the heroine is clever and perceptive...and the hero is the wickedest in his corner of the world... He's also the perfect antidote to the ton – the world in which our heroine lives. When these opposites attract, the chemistry is combustible." — All About Romance