A Lush and Seething Hell: Two Tales of Cosmic Horror (Hardcover)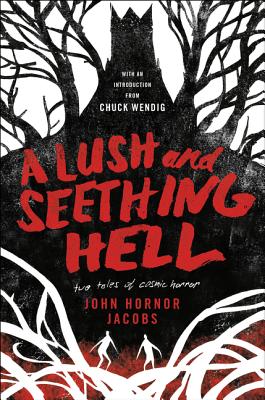 $19.99

Available from our distributor; usually Ships in 1-5 Days
Staff Reviews
---
"John Hornor Jacobs is one of my new favorites when it comes to cosmic horror. His stories are slow, creeping, and always have a great atmosphere to them. These two novellas are a great primer to get you digging into his longer stories and are great starts for someone looking to get into the Lovecraftian style of horror as a whole."
— From
Will
Description
---
A World Fantasy Award Nominee!
The award-winning and critically-acclaimed master of horror returns with a pair of chilling tales that examine the violence and depravity of the human condition.
Bringing together his acclaimed novella The Sea Dreams It Is the Sky and an all-new short novel My Heart Struck Sorrow, John Hornor Jacobs turns his fertile imagination to the evil that breeds within the human soul.
A brilliant mix of the psychological and supernatural, blending the acute insight of Roberto Bolaño and the eerie imagination of H. P. Lovecraft, The Sea Dreams It Is the Sky examines life in a South American dictatorship. Centered on the journal of a poet-in-exile and his failed attempts at translating a maddening text, it is told by a young woman trying to come to grips with a country that nearly devoured itself.
In My Heart Struck Sorrow, a librarian discovers a recording from the Deep South—which may be the musical stylings of the Devil himself.
Breathtaking and haunting, A Lush and Seething Hell is a terrifying and exhilarating journey into the darkness, an odyssey into the deepest reaches of ourselves that compels us to confront secrets best left hidden.
About the Author
---
John Hornor Jacobs' first novel, Southern Gods, was shortlisted for the Bram Stoker Award for First Novel. His young adult series, The Incarcerado Trilogy comprised of
The Twelve-Fingered Boy
,
The Shibboleth
, and
The Conformity
, was described by Cory Doctorow of Boing Boing as "amazing" and received a starred
Booklist
review. His Fisk & Shoe fantasy series composed of
The Incorruptibles
,
Foreign Devils
, and
Infernal Machines
has thrice been shortlisted for the David Gemmell Award and was described by Patrick Rothfuss like so: "One part ancient Rome, two parts wild west, one part Faust. A pinch of Tolkien, of Lovecraft, of Dante. This is strange alchemy, a recipe I've never seen before. I wish more books were as fresh and brave as this." His fiction has appeared in
Playboy
Magazine,
Cemetery Dance
,
Apex
Magazine. Follow him on Twitter at @johnhornor.
Chuck Wendig is the author of the Miriam Black thrillers (which begin with Blackbirds) and numerous other works across books, comics, games, and more. A finalist for the John W. Campbell Award for Best New Writer and the cowriter of the Emmy-nominated digital narrative Collapsus, he is also known for his popular blog, terribleminds.com. He lives in Pennsylvania with his family.
Praise For…
---
"Falling somewhere between House of Leaves (2000) and The Blair Witch Project, it is a terrifying, gothic descent into madness.This book has a fitting title if there ever was one, and these nightmares are worth every penny." — Kirkus Reviews (starred review)
"The audacity of Jacobs to write two brilliant, hallucinatory, terrifying short novels that mash up South American poetry and politics, pre-WWII American folk songs, all-too-human depravity and longing, and cosmic horror. And then present them in one of the best books of the year. Damn him." — Paul Tremblay, author of A Head Full of Ghosts and The Cabin at the End of the World
"There are horror writers who plant you in the cemetery and show you the old grave where the ghoul resides. Then there are writers like Jacobs, who ditch many of the genre's standard tools while staying true to its essential heart. [...] These stories stitch Lovecraftian cosmic horror into terrestrial elements like murder ballads, and the result is a fiercely original and disquieting work. A must-have for any serious horror collection." — Booklist (starred review)
"This book is Jacobs at his monstrous best. The tales read like whispered secrets from the mutant offspring of Lovecraft and Borges. Hornor understands that real horror doesn't just exist in far-flung regions, but is as close as a glimpse of text or a snatch of song." — Richard Kadrey, New York Times bestselling author of The Grand Dark
"In Jacobs's work, the present is held in a manacled grip by the foolishness and horrors of the past. His writing is meticulous, detailed, and atmospheric, evoking a sense of place and suspense in equal turns. Horror readers will enjoy Jacobs's dark vision of human nature." — Publishers Weekly
"A Lush and Seething Hell expands the borders of cosmic horror and reveals John Hornor Jacobs for what he's always been: a quiet master among us. A beautiful, haunting book full of beautiful, haunting prose. This is the best of what horror can be." — Andy Davidson, author of In the Valley of the Sun
"John Hornor Jacobs conjures secret histories infused with the truths of real ones, turning the dark material of the twentieth century into shadowy new mythos. This is a horror novel with politics, one that uses the fantastic to put a mirror up to our most dreadful capacities." — Christopher Brown, Campbell and World Fantasy Award-nominated author of TROPIC OF KANSAS and RULE OF CAPTURE
"For horror fans, certainly, it is an absolute must-read." — B&N Sci-fi & Fantasy Blog
"In A Lush and Seething Hell Jacobs shows how a novella can do everything a novel can do and do it better — and he shows it twice. Two excellent, unsettling pieces about forbidden knowledge, lost souls, and struggling selves, one set in Latin America, the other in the American South. Having them together in the same book is like listening to two ghosts talk to one another." — Brian Evenson, Guggenheim fellow and award-winning author of Song for the Unraveling of the World, Last Days, and The Warren
"The title of the collection, A Lush And Seething Hell, is both an invitation and a warning. The horror is seductive and smart, both beautiful and terrifying." — Jason Murphy, screenwriter and author of The Black Goat Motorcycle Club  
"A Lush and Seething Hell is what would happen if Nabakov and Faulkner were reborn and decided to collaborate on a pair of psychological horror tales. Frightening, suspenseful, and full of humanity, this book showcase one of the most original voices in fiction." — Jonathan Janz, Author of The Dark Game, The Siren and the Specter, and Children of the Dark
"In A Lush and Seething Hell, John Hornor Jacobs shines a light on the unimaginable, and then plunges gleefully deeper, into the abyss. We worry about his characters. We worry about our own sanity, too. Jacobs' work is some of the smartest and most creative fiction I've read." — Sarah Langan, Stoker Award-winning author of Good Neighbors
"Jacobs's A LUSH AND SEETHING HELL is a one-two punch of thoroughly entertaining and richly realized cosmic horror that sends you reeling through a dark and unsettling world. Pays loving homage to its forbears while creating its own beautiful nightmares from the horrors of human history. JHJ's singular combination of existential dread and menace from beyond had me spellbound and reading through the night." — Jeremy Robert Johnson, author of Entropy in Bloom
"Unsettling and incisive, these collected novellas illuminate the brutality of recent history and the cruelty--both heartwrenchingly mundane and more eldritch-leaning--of those in power." — Caitlin Starlin, author of The Luminous Dead
"John Hornor Jacobs is a writer's writer. His prose is gloomily sublime and layered with shadow. Be warned though: These stories may well be haunted. They stick around to whisper their melodies in the dark long after you finish reading." — Jaye Wells, author of High Lonesome Sound