Daring and the Duke: A Dark and Spicy Historical Romance (The Bareknuckle Bastards #3) (Mass Market)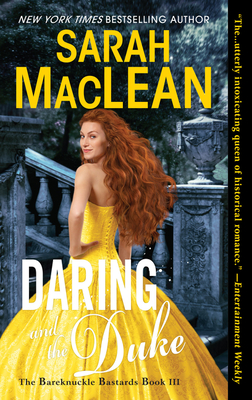 Other Books in Series
This is book number 3 in the The Bareknuckle Bastards series.
Description
---
New York Times bestselling author Sarah MacLean returns with the much-anticipated final book in her Bareknuckle Bastards series, featuring a scoundrel duke and the powerful woman who brings him to his knees.
Grace Condry has spent a lifetime running from her past. Betrayed as a child by her only love and raised on the streets, she now hides in plain sight as queen of London's darkest corners. Grace has a sharp mind and a powerful right hook and has never met an enemy she could not best...until the man she once loved returns. 
Single-minded and ruthless, Ewan, Duke of Marwick, has spent a decade searching for the woman he never stopped loving. A long-ago gamble may have lost her forever, but Ewan will go to any lengths to win Grace back…and make her his duchess. 
Reconciliation is the last thing Grace desires. Unable to forgive the past, she vows to take her revenge. But revenge requires keeping Ewan close, and soon her enemy seems to be something else altogether—something she can't resist, even as he threatens the world she's built, the life she's claimed…and the heart she swore he'd never steal again.
About the Author
---
A life-long romance reader, Sarah MacLean wrote her first romance novel on a dare, and never looked back. She is the New York Times and USA Today bestselling author of romances translated into more than twenty languages, a romance columnist, and the co-host of the weekly romance novel podcast, Fated Mates. A graduate of Smith College and Harvard University, she lives in New York City.
Praise For…
---
"MacLean works magic, crafting a magnificent romance that's as satisfying as it is subversive." — New York Times Book Review
In "Daring and the Duke," Sarah MacLean's final installment of the Bareknuckle Bastards we get to see Grace Condry finally get the epic grovel she deserves. This romance is stridently feminist from the first page….That sounds like a happily-ever-after the Chicks would probably write a song about." — Washington Post
"MacLean engages with complex faults of the patriarchy throughout, interrogating women's pleasure and the threat that men perceive when it is taken rather than given...she probes questions of identity and internalized misogyny, her writing ripe with lust, forgiveness, and the female gaze." — Entertainment Weekly
"Visceral, gritty, and full of passion and angst, this romance mixes moments of emotional introspection with grand scenes of balls, fights, and scorching intimacy...While this story excels as a second-chance, redemption love story, what really makes it stand out is the unabashedly feminist exploration...Dark, daring, delicious, and absolutely delightful." — Kirkus Reviews (starred review)
"The highly anticipated conclusion to the inimitable MacLean's massively popular Bareknuckle Bastards trilogy delivers a satisfying emotional punch that fans will savor. It can be read as a stand-alone but is best enjoyed along with the rest of the series." — Library Journal (starred review)
"Wrapping up the Bareknuckle Bastards series splendidly, RITA Award–winning MacLean reinforces her place as a master of historical romance with another exemplary, empowering love story that brilliantly showcases her flair for gloriously insightful characterization, grandly entertaining plotting, and gorgeously sensual prose." — Booklist
"She's my absolute go-to author for clever, sexy and fun historical romances." — Jennifer L. Armentrout, #1 New York Times bestselling author
"Here [MacLean] kicks off a new series, The Bareknuckle Bastards, that promises her darkest take yet. But even when MacLean goes dark… the sparkling wit and essential goodness of her characters shine through." — New York Times Book Review on Wicked and the Wallflower
"[...] MacLean once again dazzles readers with her literary prowess by delivering another perfectly matched pair of protagonists, a surfeit of amusing secondary characters, stellar use of sensuality, and polished writing generously seasoned with her inimitable, irresistible sense of wit." — Booklist (starred review) on Wicked and the Wallflower
"Funny, playful and vivid, Sarah MacLean's latest romance samples the best of both worlds with the earthy vigor of the slum's crafty, loyal lower classes and the juicy intrigue of high society scandal." — BookPage on Brazen and the Beast
"Combining dark humor and plenty of heat between our brazen leads, and offering intriguing glimpses of the next installment, MacLean (Wicked and the Wallflower) once again gives us an independent-minded heroine discovering the possibilities of a future with a dangerous leader of Covent Garden's underbelly." — Library Journal on Brazen and the Beast
"Strong female protagonists are the rule in genre romance, but Hattie stands out for the clarity of her goals and the intelligence with which she goes about achieving them. Classic MacLean: smoking hot, emotionally rich, thrilling, and unforgettable." — Kirkus Reviews (starred review) on Brazen and the Beast