The Black Ascot (Inspector Ian Rutledge Mysteries #21) (Hardcover)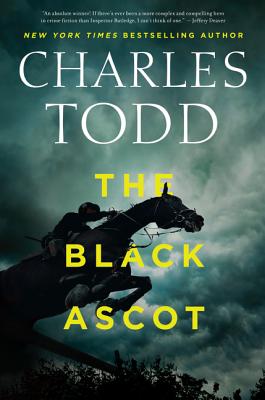 $26.99
Out of Stock - Not Available
Other Books in Series
This is book number 21 in the Inspector Ian Rutledge Mysteries series.
Description
---
Scotland Yard's Ian Rutledge seeks a killer who has eluded Scotland Yard for years in this next installment of the acclaimed New York Times bestselling series.

An astonishing tip from a grateful ex-convict seems implausible—but Inspector Ian Rutledge is intrigued and brings it to his superior at Scotland Yard. Alan Barrington, who has evaded capture for ten years, is the suspect in an appalling murder during Black Ascot, the famous 1910 royal horse race meet honoring the late King Edward VII. His disappearance began a manhunt that consumed Britain for a decade. Now it appears that Barrington has returned to England, giving the Yard a last chance to retrieve its reputation and see justice done. Rutledge is put in charge of a quiet search under cover of a routine review of a cold case.
Meticulously retracing the original inquiry, Rutledge begins to know Alan Barrington well, delving into relationships and secrets that hadn't surfaced in 1910. But is he too close to finding his man? His sanity is suddenly brought into question by a shocking turn of events. His sister Frances, Melinda Crawford, and Dr. Fleming stand by him, but there is no greater shame than shell shock. Questioning himself, he realizes that he cannot look back. The only way to save his career—much less his sanity—is to find Alan Barrington and bring him to justice. But is this elusive murderer still in England?
About the Author
---
Charles Todd is the New York Times bestselling author of the Inspector Ian Rutledge mysteries, the Bess Crawford mysteries, and two stand-alone novels. A mother-and-son writing team, Caroline passed away in August 2021 and Charles lives in Florida.
Praise For…
---
"An absolute winner! The Black Ascot delivers everything we've come to love about an Ian Rutledge novel... If there's ever been a more complex and compelling hero in crime fiction than Inspector Rutledge, I can't think of one."
— Jeffery Deaver on The Black Ascot
"A masterpiece of imagination." — Lee Child, New York Times bestselling author, on the Ian Rutledge series
"The authors... never let the series settle into an easy formula, and they always keep the reader guessing. This one feels just as fresh as the early Rutledge novels." — Booklist on The Black Ascot
"The investigation and its ultimate destination are gripping." — Kirkus Reviews on The Black Ascot
"This mystery is one of the finest in the series... One of the best I have read by Charles Todd—very highly recommended!" — Historical Novels Review on The Gate Keeper
"Somber, moving, and utterly spellbinding...evocative....Rutledge's ongoing courageous refusal to surrender to the dark forces buffeting him on all sides is a shining example of resolve, nerve, and decency, and makes haunted Ian Rutledge impossible to drive out of one's mind." — Strand Magazine on A Long Shadow
"Charles Todd (actually a mother-son writing team) pulls off the voice-in-the-head device exquisitely. Moreover, the series is populated with highly nuanced characters, and the historical research is spot on. In Racing the Devil, the pacing is compelling." — Newark Star Ledger on Racing the Devil