Stray City: A Novel (Paperback)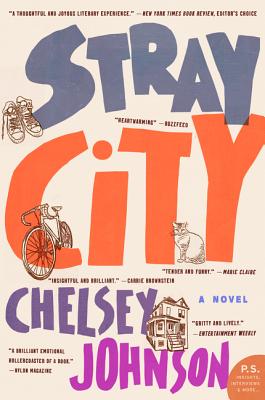 Staff Reviews
---
"A sweet coming-of-age and coming out novel set in Portland, OR in the 90s. It's very Portland and very 90s, which I loved. It's also about music and found family and DIY and L O V E love. The novel engages several serious themes with a gentle touch and really seems to embody the love Chelsey Johnson clearly feels for her characters. Earnest, nuanced writing allows for easy emotional investment in the beautiful and messy relationships within. Dang, I think I'm going to re-read this now!" 
— Davi
April 2018 Indie Next List
---
"A coming-of-age story about Andrea, a Midwestern, Catholic, artistic lesbian who escapes her family to try and find herself. After moving to Portland, Oregon, in the '90s, Andrea gets involved in printmaking and music, meets a circle of people she depends upon, experiences a breakup, and finds a new friend. I could not put this novel down once I started it. When I was down to the last 10 pages, I read as slowly as I could, savoring every last word about the people I had come to know in Stray City. Such a good story!"
— Nona Camuel, CoffeeTree Books, Morehead, KY
Description
---
"A thoughtful and joyous literary experience that celebrates its characters and liberally rewards its readers." —New York Times Book Review, Editors' Choice
"I tore through this novel like an orphaned reader seeking a home in its ragtag yet shimmering world." — Carrie Brownstein
"Our '90s nostalgia is hella high these days, and this tender, funny story made our aging hipster hearts sing." — Marie Claire
A warm, funny, and whip-smart debut novel about rebellious youth, inconceivable motherhood, and the complications of belonging—to a city, a culture, and a family—when none of them can quite contain who you really are.
All of us were refugees of the nuclear family . . .
Twenty-three-year-old artist Andrea Morales escaped her Midwestern Catholic childhood—and the closet—to create a home and life for herself within the thriving but insular lesbian underground of Portland, Oregon. But one drunken night, reeling from a bad breakup and a friend's betrayal, she recklessly crosses enemy lines and hooks up with a man. To her utter shock, Andrea soon discovers she's pregnant—and despite the concerns of her astonished circle of gay friends, she decides to have the baby.
A decade later, when her precocious daughter Lucia starts asking questions about the father she's never known, Andrea is forced to reconcile the past she hoped to leave behind with the life she's worked so hard to build.
A thoroughly modern and original anti-romantic comedy, Stray City is an unabashedly entertaining literary debut about the families we're born into and the families we choose, about finding yourself by breaking the rules, and making bad decisions for all the right reasons.
About the Author
---
Chelsey Johnson received an MFA from the Iowa Writers' Workshop and a Stegner Fellowship from Stanford University. Her stories and essays have appeared in Ploughshares, One Story, Ninth Letter, The Rumpus, and NPR's Selected Shorts, among other outlets. She has received fellowships to the MacDowell Colony, the Virginia Center for Creative Arts, and Signal Fire Arts. Born and raised in Northern Minnesota, she currently lives in Richmond, Virginia, and teaches at the College of William & Mary. This is her first novel.
Praise For…
---
"This novel has everything: the circa-'99 lesbian indie-rock scene! Zines! Answering machines! . . . Our 90s nostalgia is hella high these days, and this tender, funny story made our aging hipster hearts sing." — Marie Claire
"Insightful and brilliant, Stray City explores the stickiness of doing what's expected and the strange freedom born of contradiction. I tore through this novel like an orphaned reader seeking a home in its ragtag yet shimmering world." — Carrie Brownstein, New York Times bestselling author of Hunger Makes Me a Modern Girl
"A winsome novel about love and belonging—and the possibility of discovering both in the most unlikely of places, and among the most unexpected people. Tender and smart, Stray City is a fantastic debut from a huge talent." — Cristina Henríquez, bestselling author of The Book of Unknown Americans
"Johnson's writing is very funny yet emotionally tender, and ultimately is a heartwarming celebration of found families and our desire to belong." — Buzzfeed, Exciting New Books You Need To Read This Spring
"Gritty and lively." — Entertainment Weekly
"This lively first novel features a lesbian reeling from a breakup who begins a befuddling affair with a man. Things don't get any easier when she realizes she's pregnant." — O magazine
"Diverse and colorful . . . a vibrant portrait of a woman coming into her own, in a city also coming into its own, brimming with music, art and beauty . . . a thoughtful and joyous literary experience that celebrates its characters and liberally rewards its readers."  — New York Times Book Review, Editors' Choice
"Stray City has it all. As funny as it is moving; as joyful, as radically communal, as it is lonesome . . . Honestly, one of the most absorbing, finely-tuned books I've had the pleasure of falling down into. Chelsey Johnson is a wonder." — Justin Torres, bestselling author of We the Animals
"Written with wit and sensitivity and exquisite emotional intelligence, Stray City is an absolute pleasure to read. Chelsey Johnson is one of the most refreshing new voices in literature." — Jami Attenberg, New York Times bestselling author of The Middlesteins and All Grown Up
"A humorous and heartfelt exploration of sexual identity and unconventional families." — The Millions, The Great 2018 Book Preview
"Radically funny and truly insightful . . . a brilliant emotional rollercoaster of a book, exploring what it means to create and sustain a family, and the difficulties of loving people—including yourself." — Nylon Magazine, 50 Books We Can't Wait to Read in 2018
"A love letter to Portland in the 90s, Stray City is a gorgeous, funny, sharply spot-on tale of growing up and making family again and again and again." — Michelle Tea, award-winning author of Valencia
"A coming-out and coming-of-age story; a surprise-I'm pregnant story; a will- they-or-won't-they love story; and an ode to a time and place we think we've heard everything about—and it's all utterly fresh. . . . Recommended for Jami Attenberg and Rainbow Rowell fans." — Booklist (starred review)
"Both an ode to and critique of the modern American family." — Harper's Bazaar
"Charming, witty, and perfectly fast-paced, Chelsey Johnson's Stray City examines the modern family through the lens of one extraordinarily quirky family out of Portland, Oregon." — Pop Sugar
"A propulsive, compassionate, hilarious novel about coming of age at the fraught intersections of Midwestern family norms, punk rock community, and LGBTQ politics." — Leni Zumas, Tin House
"A love letter to both a city and a community, and in some ways also to a specific moment in our queer history, this novel stole my heart... If I could have willed a book into existence, that book would be Stray City." — Autostraddle.com