Racing the Devil: An Inspector Ian Rutledge Mystery (Inspector Ian Rutledge Mysteries #19) (Paperback)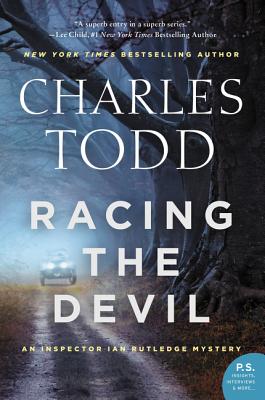 $16.99

Available from our distributor; usually Ships in 1-5 Days
Other Books in Series
This is book number 19 in the Inspector Ian Rutledge Mysteries series.
Description
---
Scotland Yard's Ian Rutledge finds himself caught in a twisted web of vengeance, old grievances, and secrets that lead back to World War I in the nineteenth installment of the acclaimed bestselling series.
On the eve of the bloody Battle of the Somme, a group of English officers having a last drink before returning to the Front make a promise to each other: if they survive the battle ahead—and make it through the war—they will meet in Paris a year after the fighting ends. They will celebrate their good fortune by racing motorcars they beg, borrow, or own from Paris to Nice.
In November 1919, the officers all meet as planned, and though their motorcars are not designed for racing, they set out for Nice. But a serious mishap mars the reunion. In the mountains just north of their destination, two vehicles are nearly run off the road, and one man is badly injured. No one knows—or will admit to knowing—which driver was at the wheel of the rogue motorcar.
Back in England one year later, during a heavy rainstorm, a driver loses control on a twisting road and is killed in the crash. Was it an accident due to the hazardous conditions? Or premeditated murder? Is the crash connected in some way to the unfortunate events in the mountains above Nice the year before? The dead driver wasn't in France—although the motorcar he drove was. If it was foul play, was it a case of mistaken identity? Or was the dead man the intended victim after all?
Investigating this perplexing case, Scotland Yard Inspector Ian Rutledge discovers that the truth is elusive—and that the villages on the South Downs, where the accident happened, are adept at keeping secrets, frustrating his search. Determined to remain in the shadows this faceless killer is willing to strike again to stop Rutledge from finding him. This time, the victim he chooses is a child, and it will take all of Rutledge's skill to stop him before an innocent young life is sacrificed.
About the Author
---
Charles Todd is the New York Times bestselling author of the Inspector Ian Rutledge mysteries, the Bess Crawford mysteries, and two stand-alone novels. A mother-and-son writing team, Caroline passed away in August 2021 and Charles lives in Florida.
Praise For…
---
"A superb entry in a superb series: an exquisite sense of time and place, a satisfying mystery with a breathless conclusion, and above all the complex, haunted, charismatic Inspector Ian Rutledge himself-truly one of crime fiction's most absorbing characters." — Lee Child, #1 New York Times bestselling author
Praise for No Shred of Evidence: "It's that melancholy tone, the legacy of the trenches, that gives Todd's polite rural mystery such uncommon depth." — Marilyn Stasio, New York Times Book Review on NO SHRED OF EVIDENCE
"Poirot was one name, Holmes was another, and Rutledge deserves to be in that classic pack of crime solvers." — Suspense Magazine on NO SHRED OF EVIDENCE
"Fans already mourning the end of "Downton Abbey" can easily get their English fix by following Rutledge and Hamish on their rounds." — Wilmington Star News on NO SHRED OF EVIDENCE
"The mother and son team, who write as Charles Todd, deftly capture the atmosphere of post World War I England in this complex mystery which will appeal to fans of British mysteries." — Iron Mountain Daily News on NO SHRED OF EVIDENCE
Praise for the Ian Rutledge series: "I love series that follow particular characters over time and through their experiences, so I automatically read the latest installments from ... Charles Todd." — Hillary Rodham Clinton, New York Times Book Review
"Todd writes a rich mystery, but in investigating the murder Rutledge also probes the psychic wounds of the village and tries to minister to the collective survivor guilt of the living. 'The dead,' as the voice in his head tells him, 'still believe it was worth dying for.'" — Marilyn Stasio, New York Times Book Review on RACING THE DEVIL
"Charles Todd (actually a mother-son writing team) pulls off the voice-in-the-head device exquisitely. Moreover, the series is populated with highly nuanced characters, and the historical research is spot on. In "Racing the Devil," the pacing is compelling." — Newark Star Ledger
"Todd's rich storytelling shines in "Racing the Devil," showing an England forever changed by The Great War, yet determined to survive." — South Florida Sun Sentinel