The Kid Stays in the Picture: A Notorious Life (Paperback)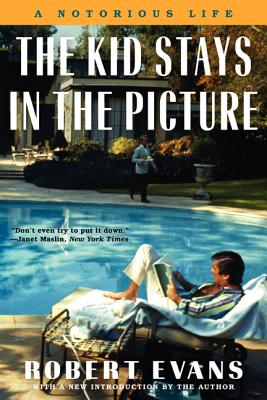 Staff Reviews
---
"There is a calculated madness to everything Robert Evans touched. All of his productions were intricate schemes wrapped inside of convoluted, back alley bargains, but, without that Evans factor - that serendipitous key bump of divine inspiration - nothing ever could have left the ground. As it happened, though, Bob Evans was flying high for decades. So much more than one man's story, The Kid Stays in the Picture is a swashbuckling chronicle of a bygone era in Hollywood, as told by the pirate king who watched it all burn."
— From
Steven
Description
---
Robert Evans' The Kid Stays in the Picture is universally recognized as the greatest, most outrageous, and most unforgettable show business memoir ever written. The basis of an award-winning documentary film, it remains the gold standard of Hollywood storytelling.
 
With black-and-white photographs from the author's archive and a new introduction by the legendary actor, producer, and Hollywood studio chief Robert Evans, The Kid Stays in the Picture is driven by a voice as charming and irresistible as any great novel.
 
An extraordinary raconteur, Evans spares no one, least of all himself. Filled with starring roles for everyone from Ava Gardner to Marlon Brando to Sharon Stone, The Kid Stays in the Picture: A Notorious Life is sharp, witty, and self-aggrandizing, and self-lacerating in equal measure.

This is a must-read for fans of American cinema and classics of the canon, including The Odd Couple, Rosemary's Baby, Love Story, The Godfather, and Chinatown.
About the Author
---
Robert Evans, the former chief of Paramount Studios, produced many of the most acclaimed and successful films of all time, including The Godfather, Chinatown, Rosemary's Baby, Love Story, Marathon Man, and Urban Cowboy. He died in 2019. 
Praise For…
---
"The best Hollywood memoir I've ever read!" — Michael Fleming, Variety
"A naughty, outrageous, and wild ride--and perhaps the best Hollywood memoir ever written." — Publishers Weekly
"Don't even try to put it down." — Janet Maslin, New York Times
"The book plays like a raunchy, randy Hollywood fairy tale about a prince who lost it all only to win it all back through pluck, charm, and persistence. . . Is it a good book? Try great. Enduring. One for the ages." — Nathan Rabin, The Onion A.V. Club
"[An] incendiary and candid memoir." — Huffington Post
Top Three Greatest Hollywood Tell-Alls — Entertainment Weekly