Woman of Rome: A Life of Elsa Morante (Paperback)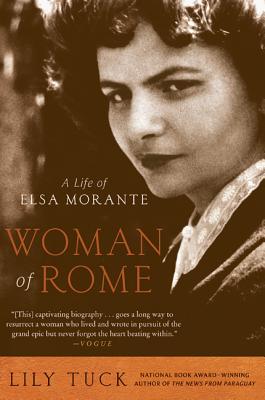 $14.99

Available from our distributor; usually Ships in 1-5 Days
Description
---
The first biography in any language of one of the most celebrated Italian writers of the twentieth century.
Born in 1912 to an unconventional family of modest means, Elsa Morante grew up with an independent spirit, a formidable will, and an unshakable commitment to writing. Forced to hide from the Fascists during World War II in a remote mountain hut with her husband, renowned author Alberto Moravia, she re-emerged at war's end to take her place among the premier Italian writers of her day. When Rome was film capital of the world, she counted Pasolini, Visconti, and the young Bertolucci among her circle of friends. She was charismatic, beautiful, and fiercely intelligent; her marriage, a passionate union of literary giants, captivated a nation; her love affairs were intense and often tragic. And until now few Americans have known of this remarkable woman and her powerful, original talent.
About the Author
---
Born in Paris, LILY TUCK is the author of four previous novels: Interviewing Matisse, or the Woman Who Died Standing Up; The Woman Who Walked on Water; Siam, or the Woman Who Shot a Man, which was nominated for the 2000 PEN/Faulkner Award for Fiction; and The News from Paraguay, winner of theNational Book Award. She is also the author of the biography Woman of Rome: A Life of Elsa Morante. Her short stories have appeared in The New Yorker and are collected in Limbo and Other Places I Have Lived. Lily Tuck divides her time between Maine and New York City.
Praise For…
---
"Woman of Rome is a dazzling read, full of passion for the odyssey of a writer." — Chicago Tribune
"A lovely and worthy biography, the first of Morante to appear in any language." — Washington Post
"...well-researched, empathetic "Woman of Rome" is both a work of literary reclamation and an act of long, deep, devoted connection...[Morante's] life and work come alive in this account." — Boston Globe
"Tuck is fascinated by Morante's drive to continually reinvent herself and blends memories of her own childhood into Morante's story, memories that add texture and a sense of honesty to the biography." — Los Angeles Times
"Written with a charming personal touch...that warms the narrative to a fine glow, this is a vital biography bringing to American audiences a writer most will have previously known little about." — Booklist (starred review)
"One literary doyenne takes on another in Lily Tuck's wonderful, sensitive biography of Elsa Morante...This is one not to miss, both for its subject and its exquisite prose." — Louisa Ermelino, Publishers Weekly (Staff Picks)
"Equal parts literary biography and liberation tract, this engaging volume...elegantly achieves its dual aims. Rarely have subject and biographer been so aptly matched." — Atlantic Monthly
"Everyone who cares about the literature of the 20th century must be grateful to Lily Tuck for her measured, elegant, and revelatory biography of Elsa Morante." — Mary Gordon
"Lily Tuck understands Morante instinctively—it is as if Morante has been waiting for her, as if this book is a part of all that she lived for." — Susanna Moore
"For worldly understanding alone, there is nothing of recent vintage quite like this entrancingly written and compellingly forthright biography." — Phillip Lopate