The Hellbound Heart: A Novel (Paperback)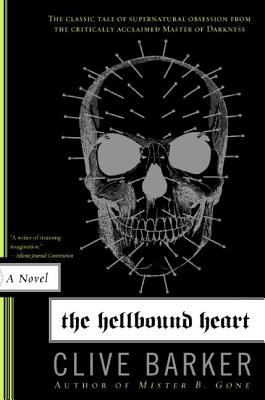 $16.99

Available from our distributor; usually Ships in 1-5 Days
Staff Reviews
---
The book that birthed the Hellraiser franchise. I will always recommend not missing this great dark read. The prose feels like poetry to me in Hellbound Heart and has always remained one of my favorite Clive Barker reads.
— Will
Description
---
The classic tale of supernatural obsession from the critically acclaimed master of darkness—and the inspiration for the cult classic film Hellraiser
From his scores of short stories, bestselling novels, and major motion pictures, no one comes close to the vivid imagination and unique terrors provided by Clive Barker. The Hellbound Heart is one of Barker's best—a nerve-shattering novella about the human heart and all the great terrors and ecstasies within its endless domain. It is about greed and love, desire and death, life and captivity, bells and blood. It is one of the most frightening stories you are likely to ever read.
Frank Cotton's insatiable appetite for the dark pleasures of pain led him to the puzzle of Lemarchand's box, and from there, to a death only a sick-minded soul could invent. But his brother's love-crazed wife, Julia, has discovered a way to bring Frank back—though the price will be bloody and terrible . . . and there will certainly be hell to pay.
About the Author
---
Clive Barker is the bestselling author of twenty-two books, including the New York Times bestsellers Abarat; Abarat: Days of Magic, Nights of War; and The Thief of Always. He is also an acclaimed painter, film producer, and director. For twelve years Mr. Barker has been working on a vast array of paintings to illuminate the text of The Books of Abarat, more than one hundred and twenty-five of which can be found within this volume.
Mr. Barker lives in California. He shares his house with seven dogs, three cockatiels, several undomesticated geckoes, an African gray parrot called Smokey, and a yellow-headed Amazon parrot called Malingo.
Praise For…
---
"Barker's most ambitious work to date. . . . Rapturously full of emotions." — L.A. Life
"Barker's the best thing to happen to horror fiction for many moons...[he] never fails to deliver the compelling prose and relentless horror his readers expect." — Chicago Tribune
"Mesmerizing invention." — Publishers Weekly