Burro Genius: A Memoir (Paperback)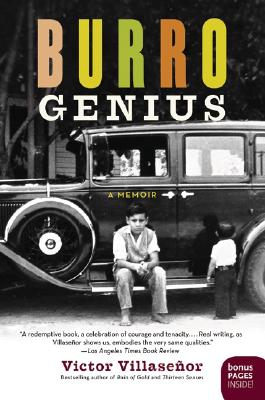 $15.99

Available from our distributor; usually Ships in 1-5 Days
Description
---
Standing at the podium, Victor Villaseñor looked at the group of educators amassed before him, and his mind flooded with childhood memories of humiliation and abuse at the hands of his teachers. He became enraged. With a pounding heart, he began to speak of these incidents. When he was through, to his great disbelief he received a standing ovation. Many in the audience could not contain their own tears.
So begins the passionate, touching memoir of Victor Villaseñor. Highly gifted and imaginative as a child, Villaseñor coped with an untreated learning disability (he was finally diagnosed, at the age of forty-four, with extreme dyslexia) and the frustration of growing up Latino in an English-only American school in the 1940s. Despite teachers who beat him because he could not speak English, Villaseñor clung to his dream of one day becoming a writer. He is now considered one of the premier writers of our time.
About the Author
---
Victor Villaseñor vive en California en el rancho donde fue criado. Es autor de numerosos obras editoriales y aclamadas obras, entre ellas Lluvia de oro, Jurado: La Gente vs. Juan Corona, y ¡Macho!.
Victor Villaseñor's bestselling, critically acclaimed works, as well as his inspiring lectures, have brought him the honor of many awards. Most recently he was selected as the founding chair of the John Steinbeck Foundation. He lives in Oceanside, California.
Praise For…
---
"Burro Genius invites the reader to analyze on their own past and reflect on how one's actions and words directly affect those one comes in contact with." — La Prensa-San Diego
"A redemptive book, a celebration of courage and tenacity…. Real writing, as Villasenor shows us, embodies the very same qualities." — Los Angeles Times Book Review
"A powerful memoir." — San Diego Union-Tribune
"Spirited...[Villasenor's] retelling of sometimes humorous, sometimes chilling childhood experience is at once painful and gratifying. He imaginatively and poetically remembers his tumultuous childhood with the simplicity of a child and the introspection of a sage." — Publishers Weekly